As the holiday season approaches, this is the perfect time to reflect upon the cannabis industry predictions that NisonCo and our clients proposed last year. NisonCo is a full-service PR, SEO and marketing agency that anticipated the appearance of cannabis consumption lounges and that projection was correct. What will we project for the cannabis industry in 2023?

NisonCo has compiled the top cannabis industry predictions for 2023. PR, SEO, cannabusiness, dispensary, legal and content creation experts share forecasts for the cannabis industry in the coming year. Will these projections alter your PR, SEO and marketing strategies in 2023? Keep reading to learn more.
1. What states will legalize and regulate cannabis in 2023?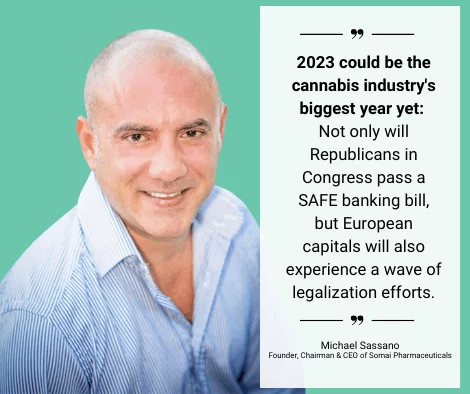 2023 could be the cannabis industry's biggest year yet: Not only will Republicans in Congress pass a SAFE banking bill, but European capitals will also experience a wave of legalization efforts.
Michael Sassano, CEO, Somai Pharmaceuticals
I think Arkansas, Maryland, Missouri, North Dakota and South Dakota all have a strong likelihood of passing ballot initiatives legalizing cannabis for adult use. If that happens, nearly half of the country can purchase cannabis legally.
Justin Kahn, CEO & Co-Founder, reepher
With five states poised to legalize cannabis, this November will likely be a historic day for marijuana policy reform. These state measures are all polling ahead; if they pass, our country will have 24 states with adult-use laws. These legalization initiatives would place the country within striking distance of an essential psychological and policy milestone—having most states with legal cannabis. If all five states legalize, pressure will mount on congress to take action themselves.

These votes are taking place in an energized climate around cannabis policy in light of President Biden's recent ground-shaking announcement. In a remarkable act of leadership, Biden pardoned thousands of people convicted of marijuana possession under federal law and stated his intention to reexamine marijuana's designation as a schedule 1 drug. Our country has not witnessed an American President's statement of this magnitude on cannabis policy since the Carter administration.

Arkansas. Cannabis legalization in Arkansas would be a major win for legalization advocates since the current Governor, Asa Hutchinson, is a rabid prohibitionist who served as a chief architect of the U.S. Drug War when he was the head of the DEA. However, this measure is the most controversial of the five ballot initiatives since it benefits the relatively small number of current medical marijuana business owners and only allows a narrow path for new business entrants.

Maryland:  Having had a medical cannabis law since 2014, Maryland is long overdue for legalization. The ballot measure is quite skeletal—only about 30 words long—and would legalize in July 2023 and kick all significant regulatory decisions to the legislature. Voters firmly back this measure.

Missouri: After an effort that COVID stalled, Missouri seems poised to legalize cannabis. This measure does a decent job of giving preexisting medical marijuana business owners a head start while allowing some new business entrants.

North and South Dakota: Despite their small populations (the Dakotas have more cows than people), legalization votes in these states could profoundly encourage federal action. Upon their states' voting to legalize, the Senators representing North and South Dakota must make essential decisions: do they continue upholding federal prohibition, or do they join the growing number of voices in the Senate who are looking to legalize?
Josh Kappel, Founding Partner, Vicente Sederberg
2. What will be the most significant cannabis industry innovation in 2023?
The banking and finance limitations must get addressed before the cannabis industry can overcome other pressing issues like interstate commerce. I suspect that the next innovations in the movement to legalize cannabis will relate to loosening banking regulations.
Justin Kahn, CEO & Co-founder, reepher
The most significant innovation in 2023 will be the standardization of production operations in states where cannabis becomes legal after the 2022 elections. As these states enter the legal environment, consumers will have access to better, high-quality products.
Wilfred Waimiri, PR Account Manager, NisonCo
The cannabis industry is ready to start utilizing blockchain technology. This technology is maturing and is finally becoming accepted and understood by mainstream culture. You will see cannabis businesses increasingly use blockchain technology in 2023 to streamline efficiencies and ensure legitimacy in the supply chain.
Marissa Smith, Managing Editor, NisonCo
3. What will be the most critical challenge the cannabis industry will face in 2023?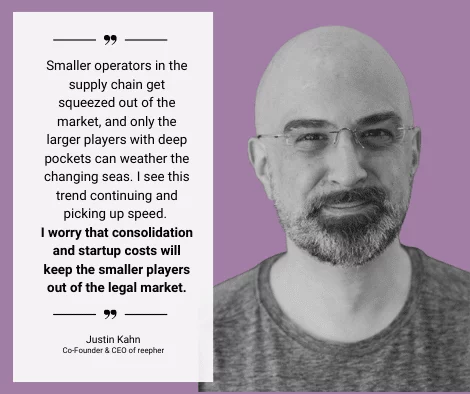 Over-regulation and over-taxation. Smaller operators in the supply chain get squeezed out of the market, and only the larger players with deep pockets can weather the changing seas. I see this trend continuing and picking up speed. I worry that consolidation and startup costs will keep the smaller players out of the legal market.
Justin Kahn, CEO & Co-founder, reepher
4. Will we see increased access to cannabis capital in 2023?
Yes and no. I think capital is getting smarter. There will always be capital for businesses to prove they have staying power. Companies that do not have their fundamentals down will find it harder to attract risk capital.
Justin Kahn, CEO & Co-founder, reepher
Investors want to back a winner. Given the state of the economy, investors want to realize a rapid return on their investment. Brands selling consistently profitable products that elicit a strong emotional reaction from consumers will attract capital.
Trevor Maniscalo, Account Manager, NisonCo
We are seeing an increased focus on investments in social equity applicants in 2023, and cannabis companies are increasingly providing investment and employment opportunities to communities marginalized by the war on drugs.  Cannabis businesses will continue investing in business incubators for marginalized communities.
Marissa Smith, Managing Editor, NisonCo
5. Will the overall economy affect the cannabis industry's growth? Is the cannabis industry recession-proof?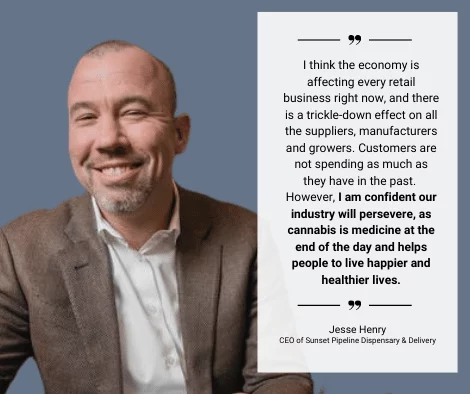 I think the economy is affecting every retail business right now, and there is a trickle-down effect on all the suppliers, manufacturers and growers. Customers are not spending as much as they have in the past. However, I am confident our industry will persevere, as cannabis is medicine at the end of the day and helps people to live happier and healthier lives.
Jesse Henry, CEO, Sunset Pipeline
I suspect that retail sales are going to decline, and there will be an increase in spending in the grey and illicit markets. I do not think that the cannabis industry is recession-proof. When money is tight, people look for cheaper alternatives. If a person can purchase cannabis on the grey or illicit market at half the cost, as they would in the dispensary, that is a compelling reason to turn away from the legal market. If the country slides into a recession, every dollar counts, especially for people living paycheck to paycheck.
Justin Kahn, CEO & Co-founder, reepher