Justin Kahn, co-founder and CEO of reepher, is rethinking responsible cannabis consumption in the modern age. The affable, mission-driven entrepreneur is, at heart, a people person. The endeavor to preserve the financial integrity of those saddled with cannabis DUI, possession, paraphernalia and public intoxication charges is at the core of reepher. 

Now, Kahn sees commercial drivers and interstate truckers as a community at risk for outsized monetary impact when facing a cannabis criminal charge. In November, the Managing Editor of NisonCo PR, Marissa Smith, spoke with Kahn at the world's largest cannabis conference, MJBizCon. Kahn explained his plans for reepher's nationwide distribution, cannabis implications for trucking companies and hopeful shifts in CDL-holders' workplace culture.
Marissa Smith: What are you hoping to get out of MJBizCon 2022?
Justin Kahn: I came here to find some distribution partners for reepher's product suite, and I have to say the conference was worth the trip and then some! I also got to meet many people I've met online, virtually — I got to shake their hands, talk to them, and get to know them a little bit better. 
Marissa: What does the distribution look like for your services, being a service-based company?
Justin: That's a great question. Reepher is an insurance-type product, for lack of a better term. It isn't technically insurance — it's a legal services plan. And all that simply means is that we sign a contract with an individual and if the individual needs to file a claim, we're contractually obligated to fulfill our commitment. Our distribution channels are direct-to-consumer through insurance agents and brokers, payment providers, point-of-sale systems, and loyalty and rewards programs. We want to get our product in front of consumers when they purchase cannabis to ensure they are protected from the legal side effects of consuming cannabis responsibly. 
Marissa: If I'm a customer walking into a dispensary, how am I going to be sold reepher's products?Justin: So you would go into a dispensary or visit them online, purchase your product, put it in your cart or tell the budtender what you want. You may see reepher advertised in the dispensary or be introduced to reepher by the budtender or when you go to pay for your purchase. Either the payment solution, the budtender, or the loyalty rewards system would offer you the opportunity to purchase one of reepher's products. Reepher offers two products:
 A $3, 48-hour cannabis crime coverage with a $1,000 total benefit.

A Membership that provides cannabis DUI coverage with additional coverage options available with a total benefit of $15,000 per incident. Membership starts at $15/month.
Let's use Las Vegas as an example. People are coming here to Las Vegas, consuming, and when they go home, they still have THC in their system. And the statistic is something like 95% of people who purchase cannabis are going to at least begin their consumption within the first 48 hours. We wanted to create a simple product that protects people during that window. When the individual goes to finalize their purchase, they're presented with optional 48-hour coverage, for which they can opt in or out. If they opt-in, they simply receive either an email or a text message with a link. If they get in trouble with the police — if they get a citation, if their car gets towed or impounded because of the cannabis citation, if they're arrested or need to be bailed out of jail — then we would pay a few hundred dollars toward each of those expenses. 
That's how we get in front of customers to educate them about this product. Then, we follow up with them to offer them our full membership, which starts at $15 monthly. In exchange — if you get charged with a cannabis misdemeanor, anything from possession up to a DUI — then a $15,000 legal expense plan kicks in to pay for not only all your legal costs but also all the life-disruption costs. For example, your car may get towed and impounded, you may need to be bailed out of jail, or your license may be suspended, and you need money for alternative transportation. 
Marissa: You might have to take a plane to travel to your court date like I did in Illinois in 2013. It was around $15,000 altogether for a misdemeanor. 
Justin: Exactly! And if you think about that $15,000, that really doesn't encapsulate the entire number. Because think of all of the life disruptions that come from it. Did you have to take time off work to appear in court? How much money did you lose there? How much did the hotel cost you? How did it impact your mental health? I'm sorry that happened to you. Cannabis DUIs and other misdemeanor charges are expensive and take a lot of resources to defend yourself against. And they are more common than you think.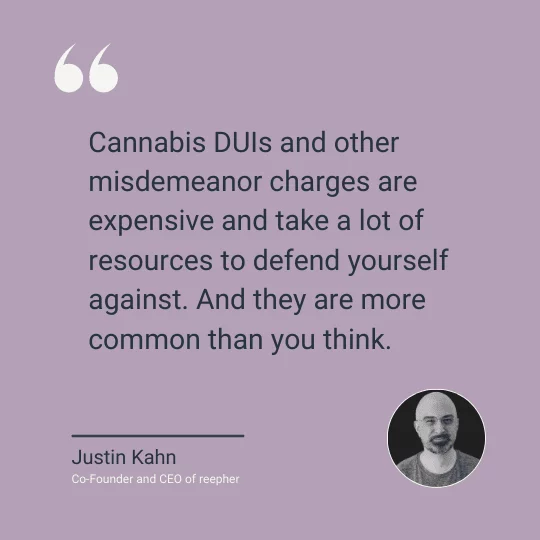 Marissa: Yes, I had to get a hotel, the whole nine. 
Justin: That's all the stuff that a reepher membership pays for. 
Marissa: Did you find over the last couple of years that a specific marketing push worked well for you to reach your customer base?
Justin: I would say we're right in the middle of that. Based on customer response, we think the strongest message we have right now is, "Yesterday's consumption could be today's DUI." 
Marissa: It could be next month's DUI in some cases. 
Justin: Exactly. Thanks for clarifying that point. One of the biggest challenges we have had so far is educating the public that if they consume cannabis, THC stays in their system long after consumption or any impairment has faded. We found many people we surveyed thought that if they lived in a state with a legal pathway to consumption, either recreationally or medically, they didn't have to worry about being charged with a cannabis DUI. 
The reality is a medical card does not excuse you from being charged with a crime, and it is illegal to drive under the influence in all 50 states. Moreover, there is no test for cannabis impairment other than a police officer's perception. The only tests that are admissible in court are fluid or hair samples, which do not show impairment. These tests only show the presence of THC, and these tests are primarily used to convict tens of thousands of people yearly. 
Marissa: Are you finding any patterns in your central consumer base?
Justin: We have found that people signing up for reepher are aged 18 to over 70. The commonality is people who have something to lose. They have a career, a license, and/or a family. They worry that the mere accusation of a cannabis crime can take all of that stuff away from you.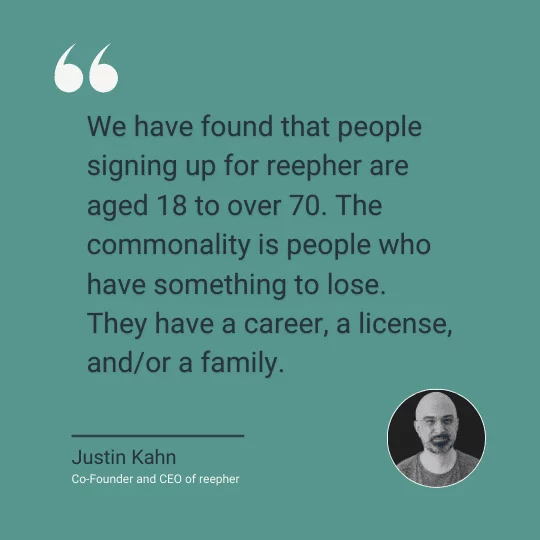 Marissa: Do you provide coverage options for people who drive for a living, like Commercial Driver's License truckers?
Justin: Yes. We also have commercial driver's license coverage available.
Marissa: I'm super interested in this CDL element. Are you looking toward ultimately providing this service for trucking companies?
Justin: This is something we're working on currently. And for anybody who reads this, I would love to talk to you if you're in the industry. The thing that comes with truckers, in particular, is that most trucking companies, fleet owners and fleet management companies with employees or contractors living in a state with a legal pathway toward consumption are often not testing for cannabis or not using cannabis consumption as a factor for employment. 
Here's the problem: every time one of those truckers crosses a jurisdictional line — that could be a county or a state line — where the laws are different, they could potentially be subjected to inspections, drug tests, all of these other things that also have implications for the companies they work for. So this is where it gets interesting. Of more than 125,000 commercial driver drug violations from March 2020 to May 2022, 56% were for cannabis offenses, all resulting in the driver being temporarily taken off the road. Think about the knock-on effects of that. What happens when the trucker gets pulled off the road and doesn't return to the profession?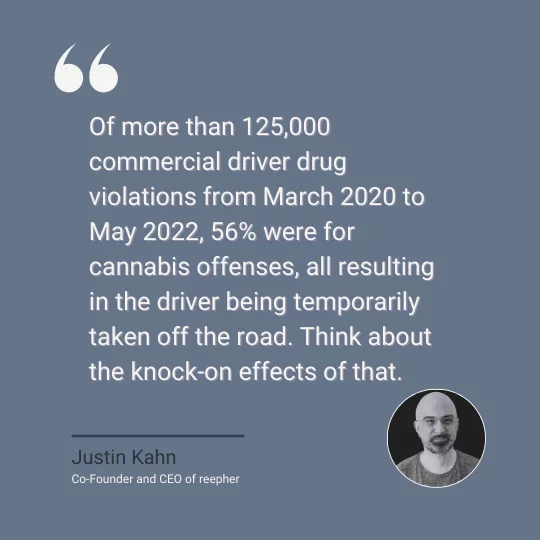 Marissa: They have to get another guy to drive the truck, or it has to get impounded, and I can not imagine how much that fee is. 
Justin: And you think of what happens if it's time-sensitive cargo. 
We think some progressive companies out there probably understand it isn't just a trucker getting pulled off the road; they get their license suspended. They have hearings and lose their income. We think there are trucking companies that want to ensure their drivers are loyal and have the support and services they need. So we think companies will purchase reepher because we have an employee-centered, competitive product. 
Marissa: Post-pandemic, because the demand for drivers is so high, it's almost like a bonus to have your employer cover you for a cannabis DUI. 
Justin: We imagine trucking companies saying, "Here are your core benefits and then here are all the other pay package inclusions because we care about you, your safety, health and well-being." 
So the last thing I'll say is that while we are simultaneously pursuing trucking, fleet owner and fleet manager companies, we're also starting to reach out to the trucking community. We're reaching out to drivers and even their significant others to let them know that there is a product like this out there they can use to protect themselves.
Marissa: Finally, Justin, I'm hoping you can paint a picture for me: What does it feel like to be covered by reepher's services? What does it mean to be a reepher subscriber to your customer base?
We created reepher to ensure that our members have a layer of financial protection and security in case they need it. The criminal justice system and law enforcement are flawed, and cannabis consumers are at a greater risk of negatively interacting with these systems simply due to their consumption. While there is talk of legalization or decriminalization, it is still and will continue to be illegal to drive under the influence in all 50 states. 
If reepher members have a negative interaction with law enforcement or need to defend themselves in court, regardless of what state or county they are in, we will be there to provide peace of mind by covering the costs and helping them through a difficult situation.